Após um longo processo de desenvolvimento, troca de diretor, troca de roteirista e novos contratos com os protagonistas, 'Cinquenta ...
Após um longo processo de desenvolvimento, troca de diretor, troca de roteirista e novos contratos com os protagonistas,
'Cinquenta Tons Mais Escuros'
, a continuação do sucesso de bilheteria
'Cinquenta Tons de Cinza'
, finalmente chega aos cinemas, mais uma vez baseado no romance de
E.L. James
.
Prometendo algo mais ousado, e mais fiel ao livro,
James Foley
(House of Cards) assume a cadeira do diretor, enquanto que
Niall Leonard
(marido da autora) cuida da adaptação do roteiro. Porém, ambos não apresentam nada de muito inovador em relação ao primeiro filme da franquia, mas é possível notar algumas diferenças. Há um cuidado maior em relação aos detalhes do livro, e logo percebe-se que poucas liberdades criativas foram tomadas.
No entanto, esse segundo filme possui mais história e material para se trabalhar, e as cenas de sexo estão melhor coreografadas, menos pesadas, mas sem deixar de lado os temas de sadomasoquismo. Contudo, alguns diálogos ainda soam cômicos em momentos em que não deveriam fazer o telespectador rir, assim como no filme anterior. E se os trailers nos vendiam uma espécie de suspense, saiba que esse aspecto passa longe do filme, apesar de duas cenas mais tensas, o máximo que pode arrancar do público é um pequeno susto.
O elenco está muito bom,
Jamie Dornan
(The Fall) e
Dakota Johnson
(
Como Ser Solteira
) estão mais à vontade na pele dos protagonistas Christian Grey e Anastasia Steele, e apesar de pouca química, ambos conseguem transmitir a emoção de estarem realmente apaixonados.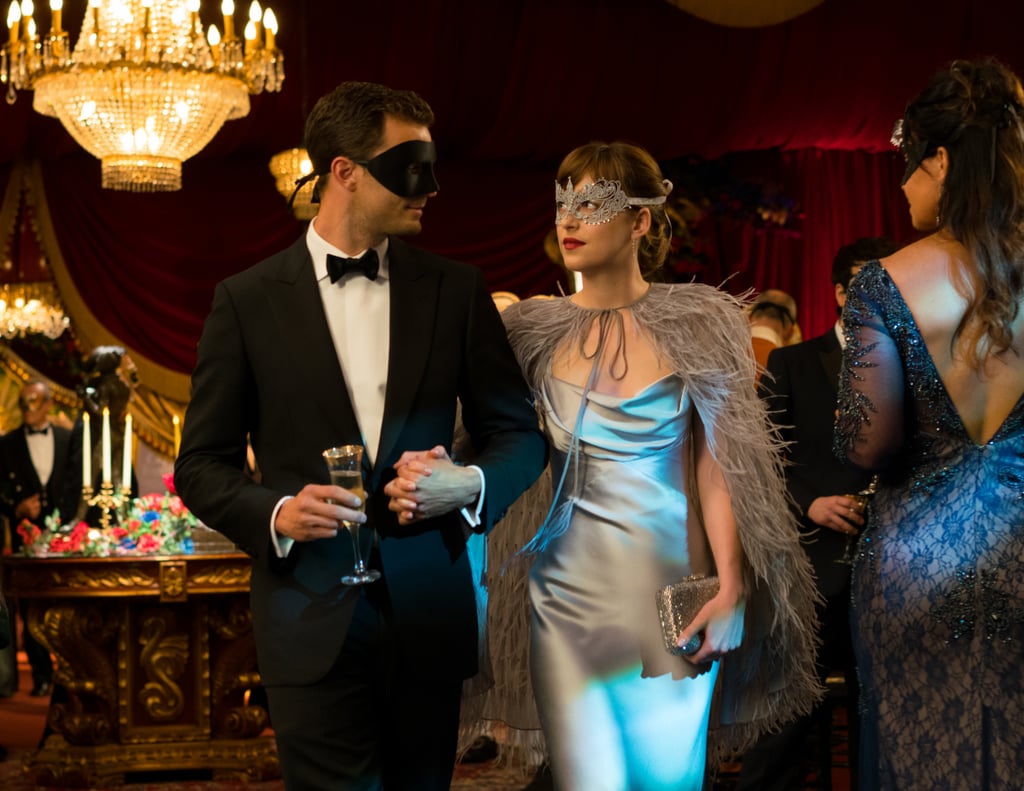 Eric Johnson (Smallville), Kim Basinger (Celular: Um Grito de Socorro) e Bella Heathcote (Sombras da Noite) foram boas adições ao elenco, e fazem a história evoluir em um bom ritmo, apesar da última ter uma participação pequena.
Eloise Mumford (The River), Rita Ora (Empire), Luke Grimes (Sniper Americano), Victor Rasuk (Stalker), Max Martini (Revenge), Marcia Gay Harden (How to Get Away With Murder) e Andrew Airlie (Mistresses) reprisam seus respectivos papéis do primeiro filme, mas agora todos estão bem mais entrosados entre si, dando mais credibilidade a seus personagens.

A fotografia mais uma vez se destaca, apostando nos melhores pontos das locações em Vancouver, nos fazendo esquecer completamente que aquela não é a verdadeira Seattle, e cenários decorados da melhor maneia possível, desde do apartamento de Anastacia, ou o de Christian, e até as grandiosas festas que ocorrem durante o filme. Embora possa parecer clichê usar tons de cinza, isso acaba combinando com o clima do filme. Assim como o figurino sabe conciliar tons mais vivos com alguns mais sóbrios, e peças simples com outras mais elaboradas.
A trilha sonora do sempre ótimo
Danny Elfman
já é outro fator que impressiona, com músicas originais e maravilhosamente selecionadas para cada cena. Destaque para
"Bom Bidi Bom"
, de Nick Jonas e Nicki Minaj,
"No Running From Me"
de Toulouse,
"Helium"
de Sia,
"The Scientist"
de Corinne Bailey Rae, e o já conhecido hit
"I Don't Wanna Live Forever"
, de Zayn e Taylor Swift.
No geral, Cinquenta Tons Mais Escuros corrige alguns erros em relação a seu antecessor, mas continua repetindo outros, embora seus acertos melhoraram consideravelmente. O novo filme deve agradar aqueles que gostaram do primeiro, embora ainda possa dividir alguns fãs dos livros. Agora só nos resta esperar mais um ano para conferir o que 'Cinquenta Tons de Liberdade' irá nos proporcionar. E se você quiser conferir uma prévia do próximo filme, espere o fim dos créditos!